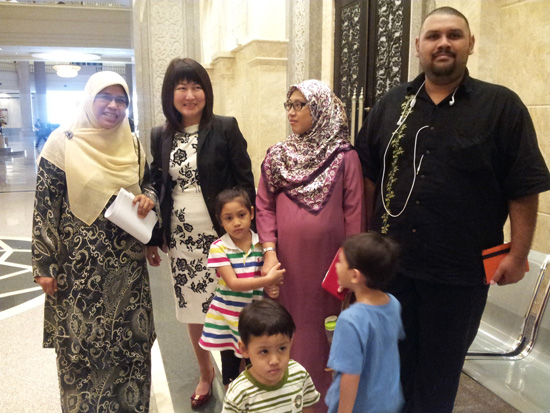 PUTRAJAYA, June 27: The Putrajaya Court of Appeal today deined the Malaysian Government's appeal to withdraw the decision of the Shah Alam High Court two years ago which decided that pregnant women also have the right to receive offers as attachment teachers.
The decision also means that the Federal Government, through the Malaysian Ministry of Education clearly gender discriminated Noorfadilla Ahmad Saikin when her appointment was made while she was three months pregnant.
"I am very happy today because the decision is maintained. This proves that what I have been fighting for all this time is true and has been proven in court twice.
"I also thank the Selangor State Government, in particular, YB Rodziah (Ismail), YB Zuraidah (kamaruddin) and also the lawyers who have helped a lot in this case since four years ago.
"I hope that more women out there who experienced the same fate as I did to come forward and claim this right so that discriminations such as this will not repeat," stressed Noorfadilla who is to give birth to her fourth child.
She was present in court accompanied by her husband, Mohd Izwan Zakaria and her children, as well as the Women's Affairs Exco, Rodziah Idmail and lawyer, Edmund Bon.
When asked to comment, Rodziah said that she hopes that the Central Government will take the decision today as a lesson and make changes in effort to create a working environment that truly does not discriminate against gender.
The Central Government has to prove that they are implementing all that is written in Article 8(2) of the Federal Constitution which states that there should not be any discrimination against gender.
"I also hope that they accept the court's decision this time and not waste time appealing in cases such as this, which clearly is opposing what is written in the constitution," said Rodziah who is also the Batu Tiga Assemblywoman.
In May 2010, Noorfadilla, through her lawyer, filed a suit after her appointment as an untrained attachment teacher was revoked when the officers found out she was expecting.
At the time, she names three Education Officers form the Hulu Klang District, the Malaysian Chief Director of Education, the Malaysian Ministry of Education and the Malaysian Government as the defendant.
Based on the affidavit, Noorfadilla attended an interview for the position on 12 January 2009 and successfully received an offer through a Short Messaging Service (SMS) text.
She was then asked to receive a memo on the placement of school and was appointed to teach at the Kajang National High School with a pay of RM1,500 per month.
However, the placement memo was withdrawn immediately on the same day with the excuse that pregnant women cannot be appointed to be attachment teachers.
This case was then taken to the Shah Alam High Court and Judge Zaleha Yusof in July 2011 decided that Noorfadilla indeed has the right to receive the position as stated in the constitution.