SHAH ALAM, 20 Jan: The actions of the opposition of often organising street assemblies has definitely received negative reaction from many parties, however it is considered 'halal' (permissible) if the demonstration is organised by Umno leaders.
Blogger, Milo Suam, in a statement, said that assemblies organised by Umno do not need the ten-day notice as provided in the Peaceful Assembly Act although it is planned less than a week from the incident where a replica of the Prime Minister, Datuk Seri Najib Razak, was stuffed with kangkung (water spinach).
He said that the action was not disputed by any party, in fact, it is automatically considered as a 'peaceful assembly'.
"When assemblies are organised by Umno, it automatically becomes a peaceful assembly despite the Peaceful Assembly Act requires a ten-day notice to be issued before an assembly can be organised.
"However, the Defend Najib Assembly erupted after the Machang Bubuk Assemblyman, Lee Khai Loon, stuffed kangkung into the mouth of the Najib replica on 18 January. This means that the assembly was planned in less than a week.
"This is normal; whatever Umno does is 'halal'. Previously, they said that street assemblies were not our culture, but when Umno assembles, the street assembly is upheld as a Malay custom," he said.
The blogger also insinuated that participants of the demonstration were angry with the actions of the Parti Keadilan Rakyat (PKR) Assemblyman, but mostly criticised DAP and associated the party with race issues.
"It is evident that participants of the assembly do not know exactly what they are fighting for in the assembly," he said.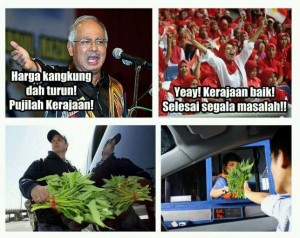 About 600 participants, including members of the Penang Umno, gathered to protest against Khai Loon's actions and were seen carrying banners and manila cards saying "Allahu Akbar" (Allah if the Greatest) and "Hidup Melayu" (Long Live Malays).
On one of the banners, it was written "Because of the mouth of DAP leaders, the 13 May 1969 (incident) happened…do you want it to happen again?. Meanwhile other messages such as 'Hina PM seperti hina Melayu' (insulting the PM is like insulting Malays), 'Melayu Pulau Pinang bertahan kerana makan kangkung (Penang Malays are standing strong because of eating kangkung), 'ABCD_ Asal bukan Cina DAP' (Anyone but Chinese from DAP) and 'DAP musuh Islam' (DAP is an enemy of Islam).
Najib was 'attacked' by users of social networking sites on his recent statement saying that the price of kangkung has gone down.