SHAH ALAM, 31 Jan: The Selangor Umno Chairman, Datuk Seri Noh Omar, has been given ten days to reorganise the debate on the issue of the 'Allah' term, which should have taken place at the Karangkraf Complex here on 27 January.
The Member of Parliament for Shah Alam, Khalid Samad, said that the challenge has been brought up following Noh's supposed readiness to 'school' him regarding the issue.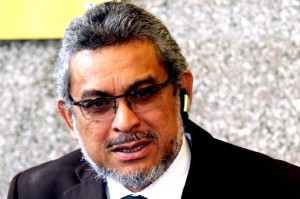 He also suggested for the debate session to be broadcast live on television so that the people can judge arguments presented.
"We will organise a debate between me and him and a moderator. Is should be broadcast live so that the people say who is good or who is just good at talking.
"If greatness is aimed at being shown, one does not have to bring friends or supporters. I am ready to be schooled by Noh Omar, but I hope that he will school me at a post-graduate level and not at a standard six level," he said in a press statement at his office yesterday.
Khalid said that if Noh fails to respond within the stipulated period, he is ready to play host in organising the debate at an appropriate date or time.
Earlier, the Sinar Harian Newspaper cancelled the debate on the 'Allah' term between the two leading political figures after receiving pressure from various quarters.
This caused Noh to be dissatisfied, prompting him to hold a protest at the Karangkraf Complex to seek clarification from the editorial party.
Commenting on the matter, Khalid said that Noh was deliberately creating political gimmicks and treats it as another 'kangkung' drama from Umno.
He said that the cancellation of the debate session was informed in advance by the organisers through a text message due to security factors.
"We received an SMS that night that the debate had been cancelled, but Noh is deliberately creating drama with his supporters, claiming that he showed up but I did not.
"If he really wants the debate to continue, why come in the evening? He should have come in the morning and demanded for it to continue," he said.