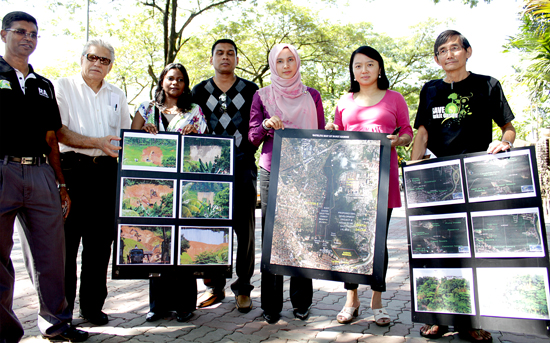 KUALA LUMPUR, 29 JAN: The Kuala Lumpur and Petaling Jaya local authorities have been urged to monitor the progress of development projects around the vicinity of Bukit Gasing to ensure that it does not threaten the safety of the residents in surrounding areas.
This is due to a series of landslides and soil movement that the population claim to be caused by the luxury housing site on the slopes of the hill.
Lembah Pantai MP, Nurul Izzah Anwar said that the Kuala Lumpur City Hall (DBKL) has been asked to act immediately because previously various complaints have been brought up by residents.
"There have been several cases of landslides and floods that have happened at Kampung Pasir and the Institute of Language Studies at Lembah Pantai and Hill Park.
"These landslides have happened in areas covered under DBKL," said Nurul Izzah.
She said this during a 'turun padang' (going to the ground to attend to people's needs) exercise to the places that have been claimed to experience landslides near the Gasing Meridian construction site at Gasing Indah.
Nurul Izzah asked DBKL and the Malaysian Institute of Public Works (IKRAM) to join together with the local authorities of Petaling Jaya to solve the problem holistically.
"When there is a development that is approximately 60 acres from hillsides, DBKL should act when incidences such as landslides occur.
"Why should we wait till there is a terrible landslide before acting," Nurul Izzah stressed.
Nurul Izzah further explained that there is a conflict of interests when DBKL has allegedly cooperated with the developers of the said areas.
According to Subang Jaya Assemblywoman, Hannah Yeoh, residents have been asked to create a response team that will monitor every development that happens around Bukit Gasing.
"MBPJ should also stop any development approvals in Bukit Gasing which is located under Petaling Jaya," said Hannah who is also looking after Bukit Gasing.
Resident of Bukit Gasing, Gary Yeoh is seeking help from elected representatives so that landslides get special attention from the local authorities.
"We ask the authorities to act and to inform about developments from time to time," he said.
Meanwhile, project manager of Gasing Meridian Sdn Bhd, Kenneth Tan claims that there have been no landslides that have occurred at the Gasing Meridian project site.
"I am at the project area everyday and I have found that there have been no landslides at the Gasing Meridian construction site.
"We are carrying out development works in phases," he said.