SHAH ALAM, July 21: The Special Muslimat (Muslim Sisters) Discussion in conjunction with the Ramadan month at the state level will be expanded to suraus in residential areas next year due to the overwhelming response it has acquired since it was launched two years ago.
The Executive Councillor for Women's Affairs, Rodziah Ismail said, in line with the State Government's intention to empower women, women's programmes and religion, this needs to be further expanded.
She said that this aimed to boost attendance during the Ramadan month through the dissemination of knowledge of the Quran and Sunnah to be applied in life.
"The response received by this programme had no less than 350 people in attendance. Like at this State Mosque, a total of 1,500 women were present," she told reporters after officiating the programme here at the State Mosque.
She said, this year, nine mosques in nine districts will implement the programme combined with other programmes including programmes involving women and welfare, women and safety, and, women and health.
She added that the State Government has allocated RM100,000 specially for women and religious programmes this year.
"This time, we have also published scholarly books to be distributed to participants. The State Government sees that we need to have not only welfare programmes for women but also those involving religious matters to deal with women's issues.
"We will make it an annual programme. We choose mosques that are less lively to hold this programme," she said.
In relation to that, she said that she wants women to attend to hear and understand what is presented by the speaker and the title presented on rather than attend based on who the invited speaker is.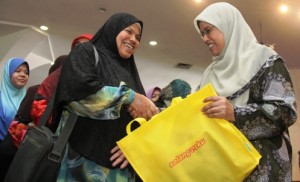 The programme names "Emulating Muslim Women Figures", among others, will include a dhuha and tasbih sunnah, zikir munajat, a tadarus ceremony, lectureas and presentation of informative videos.
It would start from 8am to 1pm, and will be organised by the Standing Committee for Women's Affairs together with the Selangor Islamic Religious Department (Jais).
Among the featured speakers are Dr Zulkifli Mohamad Al-Bakri and Ustazah Zawiyah Hassan.
Also present was the Jais Deputy Director, Zaki Arshad, the Assistant Director of the Jais Dakwah Department, Mazlan Abdullah, and the Seri Serdang Assemblyman, Nurhanim Ismail.